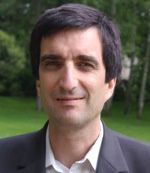 Pierre W. Johnson
is a consultant and social network designer
a fair trade and sustainable development specialist





Activities
Project manager for European project "environmental justice organisations, liabilities and trade" for the ecological economics research centre of the Versailles-Saint-Quentin-en-Yvelines University. Link to this project.
Consultant - Ethical and sustainable product chains. For more information on the services offered see: Professional Web site
Biography
Trained in sociology and international development, I supported the development of rural cooperatives in Latin America for six to seven years, and then fair trade and solidarity economy organizations in Europe and Africa.

Back in France after a three years stay in Mexico, I created and coordinated an international workshop (or community of practice) on fair trade, within the Workgroup on a Solidarity Socio-Economy. I thus contributed to the emergence of an international dialogue on the challenges of fair trade, and to cross its initiatives with other challenges, such us food sovereignty, organic agriculture and sustainable development. The reference book I wrote for this group has been translated and edited in five languages besides French (English, Spanish, Portuguese, Italian and Chinese).

This international experience led me to the facilitate dialogue on the challenges of globalization withBridge Initiative. Having led many collaborative NTIC projects, I recently coordinated the launching of the sustainable development encyclopedia, a start up online project. I combine this activity with consultancies and training on fair trade, social economy and sustainable development.

I currently bring a double expertise to companies, social entrepreneurs and non-profit organizations: in social responsability (fair trade, organic agriculture, sustainable development, etc.), and in collective intelligence (creation and facilitation of social networks, project management).

Completely trilingual (French, English, Spanish, as well as Portuguese), I participate regularly to conferences, seminars, and in training at Masters level.

My contact for professional proposals.
For article commentaries, please use the links at the bottom of articles.